Tugwi Mukosi Dam Design Attributes and Ancillary works
The Tugwi-Mukosi Dam is a concrete-face rockfill dam, with a total height of 90,3 m (296 ft) and a storage capacity of 1.803 billion cubic metres.
Features Of the
Tugwi Mukosi Dam
The dam comprises an upstream concrete face and twin drop-inlet structures excavated into the rock of the abutments; inlets serve as the dams' spillways. These two spillways are located near the left and right abutments and direct water to a concrete-lined outlet tunnel which is 6 metres in diameter and 200m long.
Water is released into a riverbed through 2 metre diameter steel pipelines at a discharge speed of about 1090m3 of water per second. A dedicated plunge pool was introduced by the Salini Impregilo team to increase and guarantee stability and safety of the dam toe. Each intake tower is 35 metres in height, fitted with grilles that direct water to a 6 metre diameter concrete-lined tunnel (350m long) excavated along the left abutment.
Similarly, the outlet is comprised of an upstream intake structure and a pressure tunnel connected to a gate shaft just after the crest of the dam. The tunnel also has a diameter of 6 m.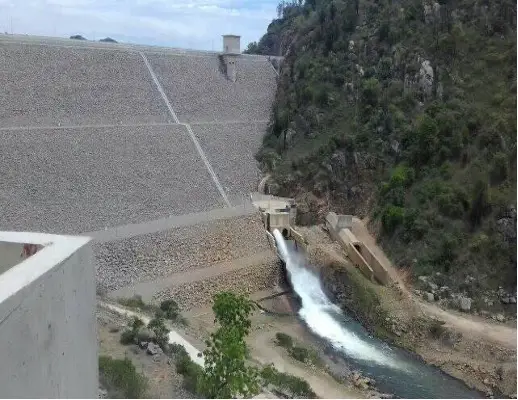 Figure 10: Pictorial views of gate shaft and outlet pipes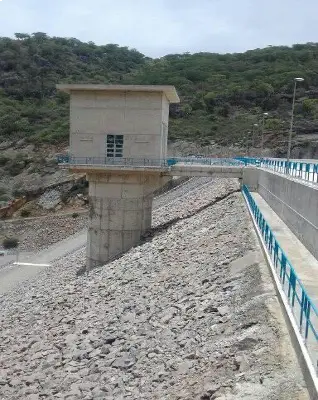 From the gate shaft, 2 by 2 m diameter steel pipes connect through a dry tunnel to the valve
house that is situated downstream of the dam. During the construction of the dam, this outlet tunnel served as a diversion route of the water. (Mavhura E.2020).
 5 saddle dams have been constructed on the right bank of the main dam. The saddle dams are earth-fill structures, 20metres tall and 133metres long, with a clay core and a total volume of about 1 120 000 m3. The last dam has an auxiliary spillway.
Materials Used to Complete the Tugwi Mukosi Dam
Materials used for project completion and some additional features are provided in the table below.
| Feature | Specifications |
| --- | --- |
| Main Dam Excavations | 1,390.505 ㎥ |
| Main Dam Backfill | 2,927,624 ㎥ |
| Saddle Dam Excavations | 663,300 ㎥ |
| Saddle Dam Backfill | 1,120,000 ㎥ |
| Concrete Materials | 95,000 ㎥ |
| Iron & Steel Materials | 4,500 tons |
| Waterproofing Layer | 8,542 m |
| Embankment Volume | 2,437,00 ㎥ |
| Flood Design | 1 in 2000 years |
According to Zimbabwe National Water Authority (ZINWA) construction standards, the Tugwi-Mukosi Dam was designed to have:
The Benefits of The Tugwi Mukosi Dam
Learn more about the many benefits of the Tugwi Mukosi Dam to local communities.